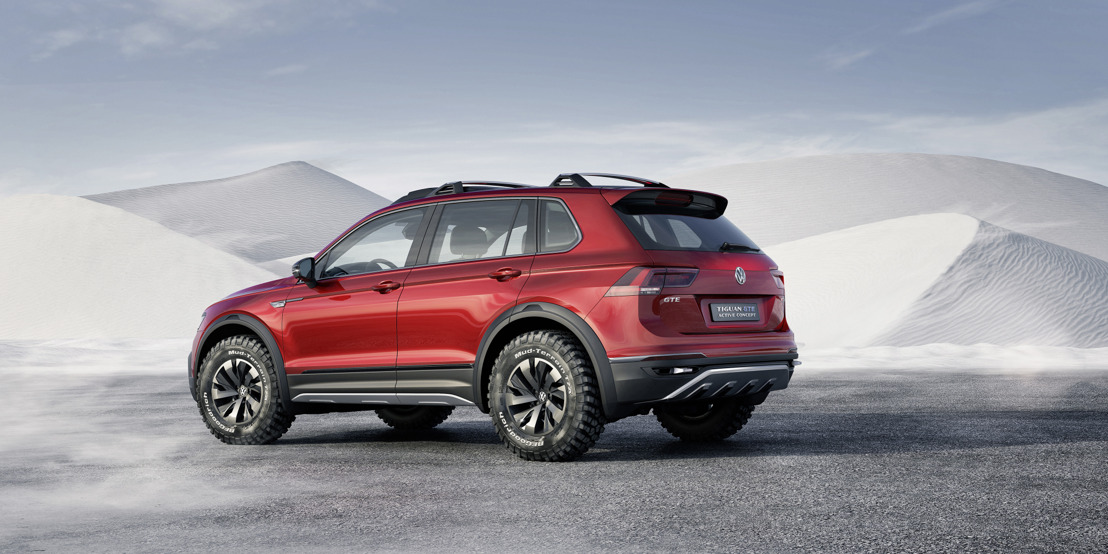 NAIAS 2016 - World premiere of the new Tiguan GTE Active Concept: Progressive plug-in hybrid drive with maximum off-road power
Lundi 11 janvier 2016 — Ten key facts – Tiguan GTE Active Concept:
Great potential: Tiguan GTE Active Concept combines efficient plug-in hybrid drive with high level of off-road performance.
Plug-in hybrid: Tiguan concept car is powered by a gasoline engine (TSI, 110 kW) and two electric motors (40 and 85 kW).
All-wheel drive: "Electric propshaft" provides for permanent all-wheel drive independent from the battery's state of charge.
Temporary zero emissions: The Tiguan GTE Active Concept can be driven all-electrically for a distance of up to 20 miles1.
Efficiency: The Tiguan GTE Active Concept impresses with a fuel economy figure of 75 MPGe1 and a range of 580 miles1 (total).
Off-road design: Independent off-road design elements of the body are technically feasible as options for production cars.
Off-road performance: The concept car being presented in Detroit has significantly more ground clearance and larger approach and departure angles.
Off-road switch: Many different driving programs can be accessed via the new 4MOTION Active Control.
Intuitive gesture control: New infotainment system has 9.2-inch display and can be operated by intuitive gesture control.
New generation SUV. Tiguan GTE Active Concept is based on the completely redeveloped second generation of the Tiguan.
The USA is the world's most important SUV market; in no other country does the multifaceted, all-round vehicle enjoy such an automotive feeling. Now, Volkswagen is introducing the Tiguan GTE Active Concept – a forbearer of an entirely new generation of SUVs – in a world premiere at the North American International Auto Show (NAIAS) in Detroit – in the Sport Utility Vehicle's country of origin. Especially progressive is the 165 kW / 225 PS drive system of the Tiguan GTE Active Concept: an efficient plug-in hybrid system with two electric motors and an engine, which can supply all four wheels with power – automatically or at the push of a button. In this show car, Volkswagen is proving how much potential the plug-in hybrid systems have. On-board the Tiguan GTE Active Concept, the technology of the all-wheel drive system ensures that the SUV can offer confident off-road performance even in all-electric mode.
SUV product offensive. The five-seat concept car is based on the completely redeveloped second generation of the Tiguan. The Tiguan GTE Active Concept reflects the great technical range of the new SUV generation with its all-wheel plug-in hybrid system and an infotainment system that has also been redeveloped (9.2-inch touchscreen with gesture control and a high-end glass surface). It will arrive on the USA market starting in spring 2017 in a version with an even longer wheelbase and seven seats. For Volkswagen, the new Tiguan marks the kickoff of an SUV product offensive – the range of SUVs offered will be significantly expanded, especially in North America.
Zero emissions in start-up phase. After starting the drive system, the concept car always drives at first as a zero emissions vehicle in the all-electric E-mode. Normally, it is driven by the rear wheels, but if there is a risk of traction loss, the front wheels are engaged too within fractions of a second. All four wheels are also activated when the driver selects 4MOTION Active Control of the all-wheel drive or off-road programs. Then too, the Tiguan GTE Active Concept starts up in all-wheel drive and with zero emissions (provided of course that the battery is sufficiently charged). The Volkswagen can cover up to 20 miles all-electrically. The vehicle's driving range (based on a battery capacity of 12.4 kWh and a 64-liter fuel tank) is 580 miles.
Progressive overall concept. Volkswagen has configured the design, packaging and technical features of the SUV to be just as progressive as its plug-in hybrid drive system. The Tiguan GTE Active Concept projects an authentic off-road look, which makes a powerful impression with its stylish precision and perfection and taut proportions. The Tiguan is the first SUV to be based on the modular transverse matrix (MQB), and it shows innovative space utilization as a plug-in hybrid. Moreover, like the later production version of the new generation of SUVs, the Tiguan GTE Active Concept is also equipped with safety systems such as Front Assist including City Emergency Braking and pedestrian monitoring, an active bonnet, Lane Assist and the automatic post-collision braking system. Another highlight of the concept car is its infotainment system: In the Tiguan GTE Active Concept, Volkswagen is presenting the top system of a new generation of high-tech infotainment – with a 9.2-inch touchscreen and gesture control that has been implemented for the first time in this class. Also on-board: an Active Info Display (fully digital instruments) and a head-up display.