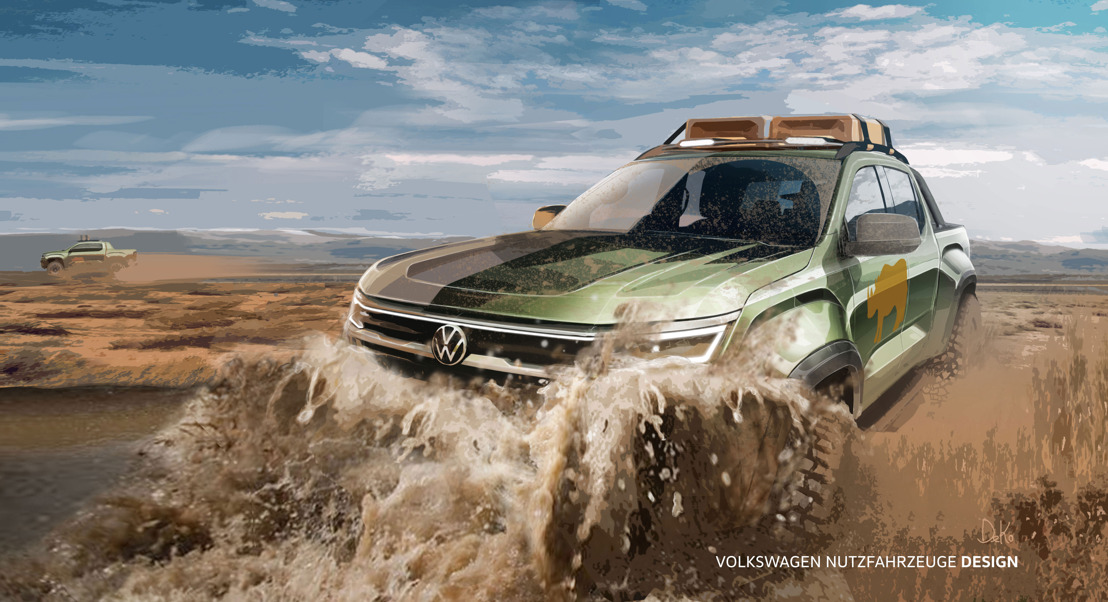 New Amarok: From South Africa to the World
Woensdag 8 december 2021
For the men and women making the future: the latest generation of the pick-up is being unveiled next year
"I'll be back": from 2022, the new Amarok will be impressing again with numerous innovations
The draft design shows, for example, the off-roader's numerous possible uses
The look of Volkswagen Commercial Vehicles' pick-up is becoming more self-confident
Hannover/Melbourne/Johannesburg, 7/8 December 2021 – Whether it be getting medicine and food to remote locations, protecting wildlife in the African savanna or saving lives at the beach, the places where pick-ups are used are infinitely varied. Be it simply driving on open land like building sites or on rough tracks – the highlights of Volkswagen Commercial Vehicles' new Amarok are without doubt its versatility and off-road capabilities. Developed by teams in Australia and Europe, the premium pick-up is being produced in future in South Africa. In 2022, Volkswagen Commercial Vehicles' new Amarok will make its début and be available then to order in the first few markets.
No matter whether it be in South Africa or Australia, pick-ups represent an approach to life and without them certain tasks would be impossible to master. When faced with large loads, challenging country tracks or off-road terrain, everyone is then happy to have a pick-up they can rely on. The Amarok has thus, for example, been used for wildlife preservation in South Africa since way back in 2011. Volkswagen Commercial Vehicles is a partner of the Wilderness Foundation Africa (WFA) in their important rhinoceros protection work.
Completely new vehicle with "clear Volkswagen DNA"
Looks good, and is highly capable: the new Amarok not only has a completely new appearance inside and out, but in future also has even more extensive equipment on board, which is useful not only when being utilised as work tools. "The Amarok makes possible what in many places appears impossible at first sight: it makes things easier for its users by assisting them in their work and everyday lives", says Dr Lars Krause, Brand Board of Management Member for Sales and Marketing at Volkswagen Commercial Vehicles. "That's because the Amarok provides solutions that enable our customers to achieve their goals – especially when things get difficult." Now in its third generation, the new vehicle has significantly more driver assist systems and knows how to impress customers in terms of connectivity. The Amarok will from 2022 thus be featuring innovations that have not been seen before in this segment. And it will still, of course, not be deterred by any rough terrain.
As Volkswagen Commercial Vehicles' all-rounder, the new Amarok impresses with its compelling lines and its overall appearance. "The striking front, and above all the defining X design clearly distinguish the new Amarok and emphasise its claim to be leading the way", confirms Albert-Johann Kirzinger, Head of Design at Volkswagen Commercial Vehicles. "We've given the strength and power of the new Amarok an unambiguous expression – with clear Volkswagen DNA, inside and out." This shows the confidence of the model, which impresses visually with a puffed-out chest and which supports the men and women making the future.
Volkswagen Commercial Vehicles' Amarok has been in series production since 2010. The premium pick-up used to be made in Hannover and will continue to be built in Pacheco in Argentina. The newest version will also be built going forward in the South African city of Silverton. Over the last decade, more than 800,000 vehicles have been sold globally, solving challenges for their owners and drivers on many continents.
In the southern hemisphere the vehicle – the only one to date with V6-cylinder diesel engines as drive system to make a name for itself in pick-ups' so-called B segment – is still going strong. In Europe it will again be possible to order the Amarok as a new vehicle from late 2022.
Notes for editors: You will find this text along with more pictures in our press database at
www.vwn-presse.de
Information on all aspects of the Volkswagen Commercial Vehicles brand and the Hannover site can be found at:
LinkedIn: https://www.linkedin.com/company/volkswagen-commercial-vehicles-/
Twitter: https://twitter.com/VWCV_official
YouTube: https://www.youtube.com/c/vwnutzfahrzeuge/featured
Facebook: https://www.facebook.com/VolkswagenNutzfahrzeugeMeinWerk/
Volkswagen Commercial Vehicles podcast 'wetransportsuccess': https://www.radio.de/p/wetransportsuccess