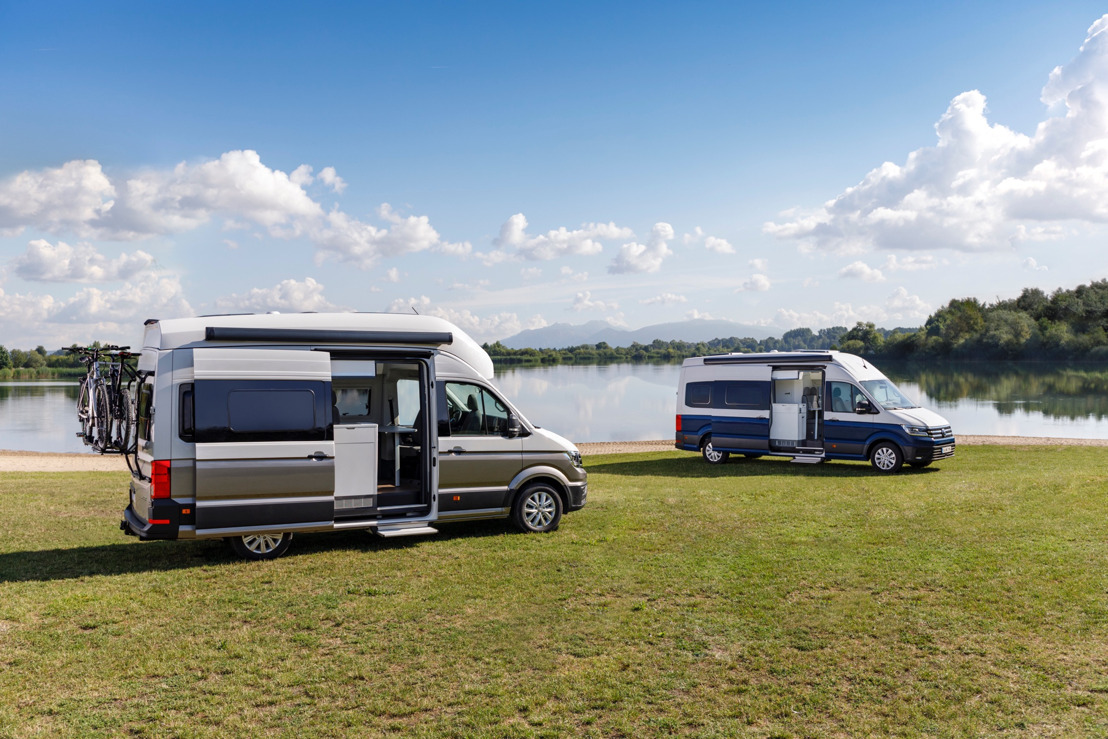 Volkswagen Commercial Vehicles presents premiere fireworks at the Caravan Salon 2018
Donderdag 23 augustus 2018
premiere of the Grand California Crafter as a camper launches in two lengths and layouts
Entry-level price is below € 55,000
(Vertaling persbericht binnekort beschikbaar)
Düsseldorf / Hannover, 23 August 2018 – On the eve of the Caravan Salon in Düsseldorf, Volkswagen Commercial Vehicles is introducing no fewer than three new recreational vehicles: the Grand California 600 with a unique roof concept and – a complete surprise – the Grand California 680 in a version with a longitudinal double bed in the sleeping area. The new large campervan will transport people on journeys in 6.0-metre and 6.8-metre versions. The base price for the Grand California 600 (130 kW, front-wheel drive, 8-speed automatic) is less than € 55,000 (Germany). In addition, the limited-edition model "California 30 Years" will be on display for the first time.
he new Grand California, which is based on the Crafter, will be in showrooms from early 2019, enriching the world of globetrotters with one of the most advanced motorhomes of our time. Volkswagen Commercial Vehicles is using this model to extend the California programme upwards, tapping into a new range of possibilities.

Grand California 600: The 6-metre long Grand California provides a sleeping area in the back with a laterally integrated bed (1,950 x 1,400 mm). Optionally, this model can be ordered with a bed for children in the redesigned campervan roof space – making it the ideal mobile home for families. When the child bed is ordered, the Grand California is automatically delivered with a large panoramic roof as well.

Grand California 680: The 6.8-metre camper has integrated an even larger sleep area (2,000 x 1,700 mm) longitudinally at the rear and offers more cargo space. In this version, the Grand California is equipped with an extended, super-high production roof from the Crafter – making it a very luxurious camper with a large sleeping area and a lot of space for two persons on major travels.

California 30 Years: The "California 30 Years" – designed to celebrate the 30th anniversary of the motorhome icon – can be ordered now. The anniversary model features a pop-up roof that can be ordered in a contrasting colour: Reflex Silver Metallic or Indium Grey Metallic. The exterior mirror housings are painted in the same colour. Other special exterior features include gloss-polished 17-inch Cascavel alloy wheels in Silver or Anthracite. Inside, the limited edition model is customized by such features as the new Bright Wood cabinet decor. The upgraded anniversary model – numbered and limited to 999 units – is being offered at a base price of € 57,215.20 (Germany).

For more information please follow this link: www.vwn-presse.de/GrandCalifornia

User: GrandCalifornia
Password: 600-680

Caravan Salon 2018 visitors will have the opportunity to see the new campers from Volkswagen Commercial Vehicles in person in Hall 16 of the Düsseldorf exhibition centre until 2 September 2018.