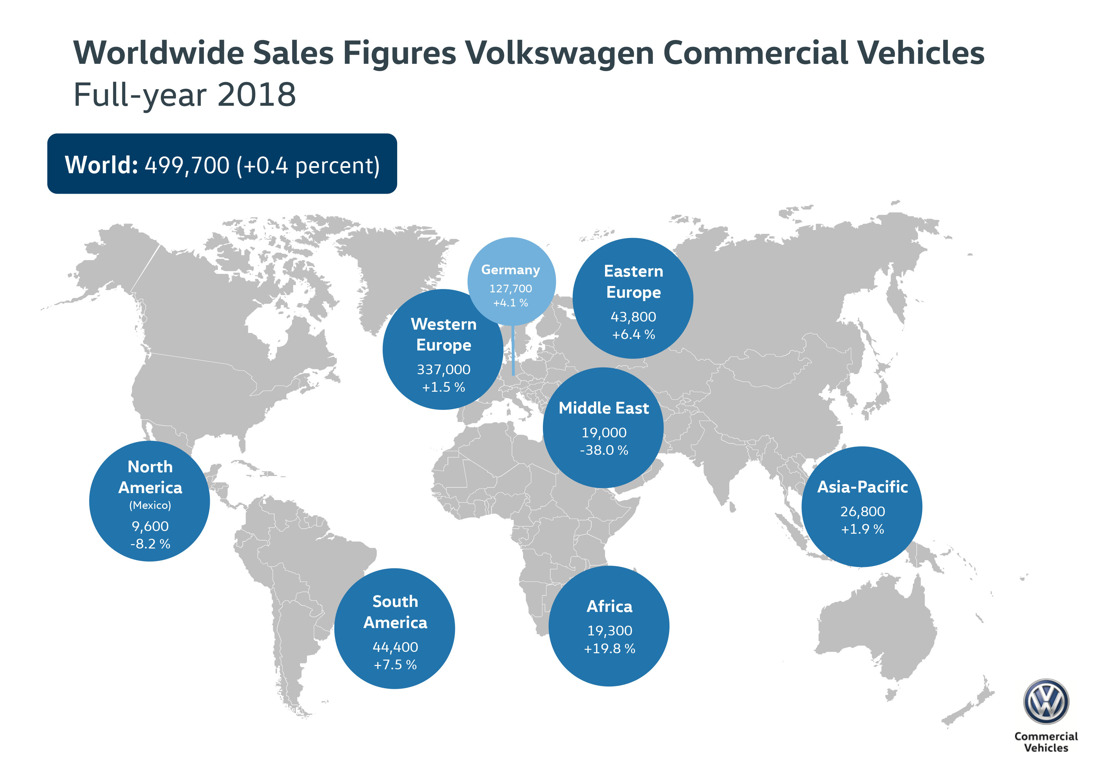 Successful 2018: Volkswagen Commercial Vehicles delivered 499,700 vehicles worldwide
Vrijdag 11 januari 2019
Sales increase again compared to strong previous year
1.5 per cent growth in Western Europe
Domestic German market with 4.1 per cent more deliveries
Member of the Board of Management for Sales and Marketing Löw: "We are confident that we will be able to increase the excellent result again in 2019"
Hannover, 10 January 2019: In 2018, the Volkswagen Commercial Vehicles brand handed over a total of 499,700 vehicles from the T, Caddy, Crafter and Amarok model ranges to customers worldwide (+0.4 per cent). This makes the past year one of the most successful in the brand's history. Growth was driven in particular by the core markets in Western Europe.
"In 2018, we once again exceeded the already very strong previous year. We can be proud of this – and we are building on it", emphasizes Heinz-Jürgen Löw, Member of the Board of Management responsible for Sales and Marketing at Volkswagen Commercial Vehicles. "Our products are achieving sustainable growth both in our European domestic market and in some non-European markets. That is clearly the merit of our efficient and reliable vehicles as well as the strong performance of our dealers." Overall, the brand has achieved solid growth in most regions worldwide in 2018 – despite challenging economic conditions in major traditional markets such as the UK and Turkey and the conversion of passenger car models to WLTP*.
"We are starting the new year optimistically and are confident that we will be able to increase the excellent result again in 2019", Löw continues.

Deliveries of the brand in 2018 in the regions and markets:

žIn Western Europe, 337,000 vehicles were handed over to customers last year (+1.5 per cent). The domestic German marketaccounted for 127,700 of these vehicles (+4.1 per cent). The company delivered 16,600 vehicles to Spain (+12.0 per cent), 47,000 to the UK (+1.7 per cent), 13,400 to Italy (+0.1 per cent) and 21,100 to France (-6.5 per cent). In Eastern Europe, the brand achieved an increase of 6.4 per cent with 43,800 deliveries to customers.

žThe brand also recorded growth in deliveries in Africa (+19.8 per cent to 19,300 vehicles), South America (+7.5 per cent to 44,400) and the Asia-Pacific region (+1.9 per cent to 26,800).

žDeliveries in North America (Mexico; -8.2 per cent to 9,600 vehicles) and the Middle East (-38.0 per cent to 19,000) were below the full-year figures for 2017.

A short video statement by Heinz-Jürgen Löw on the brand's full-year results can be downloaded here:
https://plus.cliplister.com/tools/downloaddlw.php?a=191ff5af5687fda67cbff27113b47911177abe6d0987e19e0471966c90ec2a63c3651f0ac830ff362fbddf019a9c8db38

* WLTP stands for Worldwide Harmonized Light-Duty Vehicles Test Procedure and initiates a globally uniform test procedure to determine fuel consumption and exhaust emissions. WLTP type approval must have been available for all vehicles with passenger car registration since 1 September 2018. For all light commercial vehicles, the consumption and exhaust emission values must be indicated in accordance with WLTP by 1 September 2019.