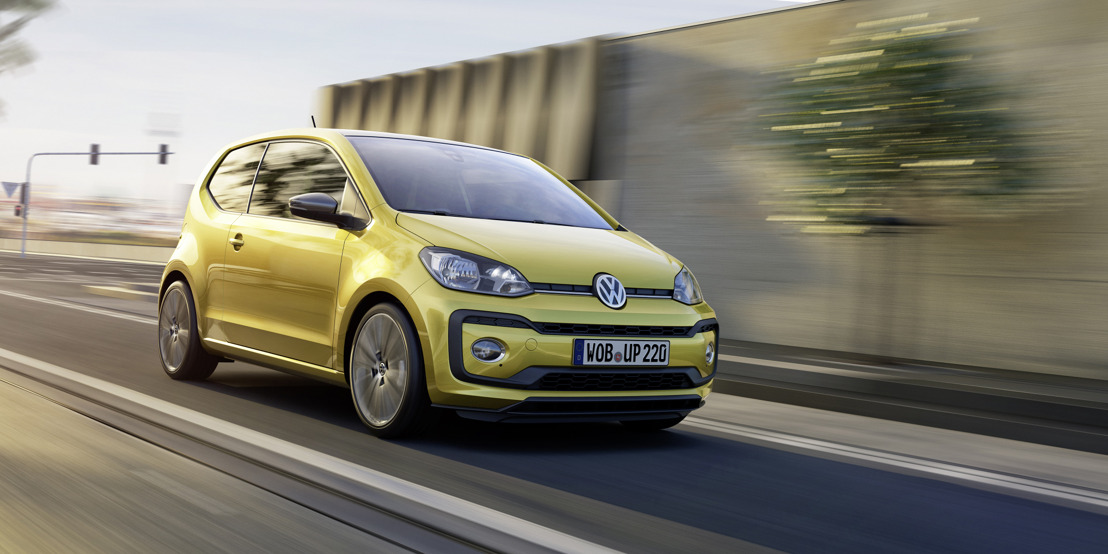 Geneva International Motor Show 2016: Volkswagen updates the up! and unveils a surprisingly new concept car
Dinsdag 23 februari 2016 — Wolfsburg, 22 February 2016 – Two models take centre stage for the Volkswagen brand at this year's Geneva International Motor Show: first, the new edition of the "up!" city car, which will soon be appearing on the market with an impressive variety of extras and improved smartphone integration. Secondly, the Wolfsburg-based company presents a fascinating concept car, which will liven up the compact car class as a trendy, affordable SUV.
With a choice between powerful petrol engines (now also available with 66 kW/90 PS*), efficient natural gas or innovative electric power units – the new up! leaves nothing to be desired in terms of drive units. A number of models will be appearing – three equipment lines, a cross-version and the spacious, 2-seater load up! – as well as new exterior colours, seat fabrics, dashpads and decorative decal designs which give each up! its own individual character. Another novelty is the smartphone integration, allowing access to navigation, music and vehicle data when used with the Volkswagen app. In addition, Volkswagen throws into the mix "up! beats", blended by US audio specialists BeatsAudio™, with a 300 watt sound system.
The concept car, expressive of a lifestyle, can be seen as the beginning of a broad SUV offensive, stating a new automotive attitude to life whilst remaining perfectly suited for everyday use. With this, Volkswagen gives a realistic perspective on a completely new model series and at the same time on the future production model. Its operating concept features hardly any switches, creating a conceptual bridge to the BUDD-e, which amazed an international audience at the CES in Las Vegas.
Product movie to the new up!: https://www.youtube.com/watch?v=oA4uwI8Sla0
*Forecast value: Fuel consumption new up! TSI (66 kW/90 PS) in l/100 km: 4,4 (combined), CO2-emission in g/km: 102 (combined).